Liver Cancer Prevention and Treatment, Enjoy Your Health – LAMH Launches Tumor Awareness Week to Build a New Barrier for Liver Cancer Prevention and Treatment
This year's theme is "Early Action for Cancer Prevention and Treatment", which aims to actively advocate everyone to be the first person responsible for their own health, correctly understand cancer, actively prevent and control cancer, establish the concept of cancer prevention, practice a healthy and civilized lifestyle, actively participate in cancer prevention and health checkups, achieve early prevention, early detection, early diagnosis and early treatment, reduce the incidence and mortality of cancer, improve the early diagnosis and survival rate of cancer, effectively curb the harm of cancer and improve the health of the public.
Liver cancer is a relatively common malignant tumor, and according to relevant data, the number of incidence and death of liver cancer are extremely close, 410,000 and 391,000 respectively, and the current ranking of liver cancer deaths has been ranked the second of all cancers. Liver cancer is an insidious disease and about 80% of liver cancer patients, when found, are in the middle to late stage, and the survival rate of late stage liver cancer is almost zero. Therefore, everyone should actively prevent liver cancer and promote early screening, early diagnosis and treatment to reduce the incidence and death rate of liver cancer.
In order to raise people's awareness of cancer prevention and control and create a good atmosphere for all people to prevent and fight against cancer, LAMH is joining hands with top experts in the field of tumor prevention and treatment nationwide to focus on new concepts and achievements in tumor prevention and treatment and deliver the authoritative voice of tumor prevention and treatment live as the National Tumor Prevention and Treatment Publicity Week 2022 is approaching.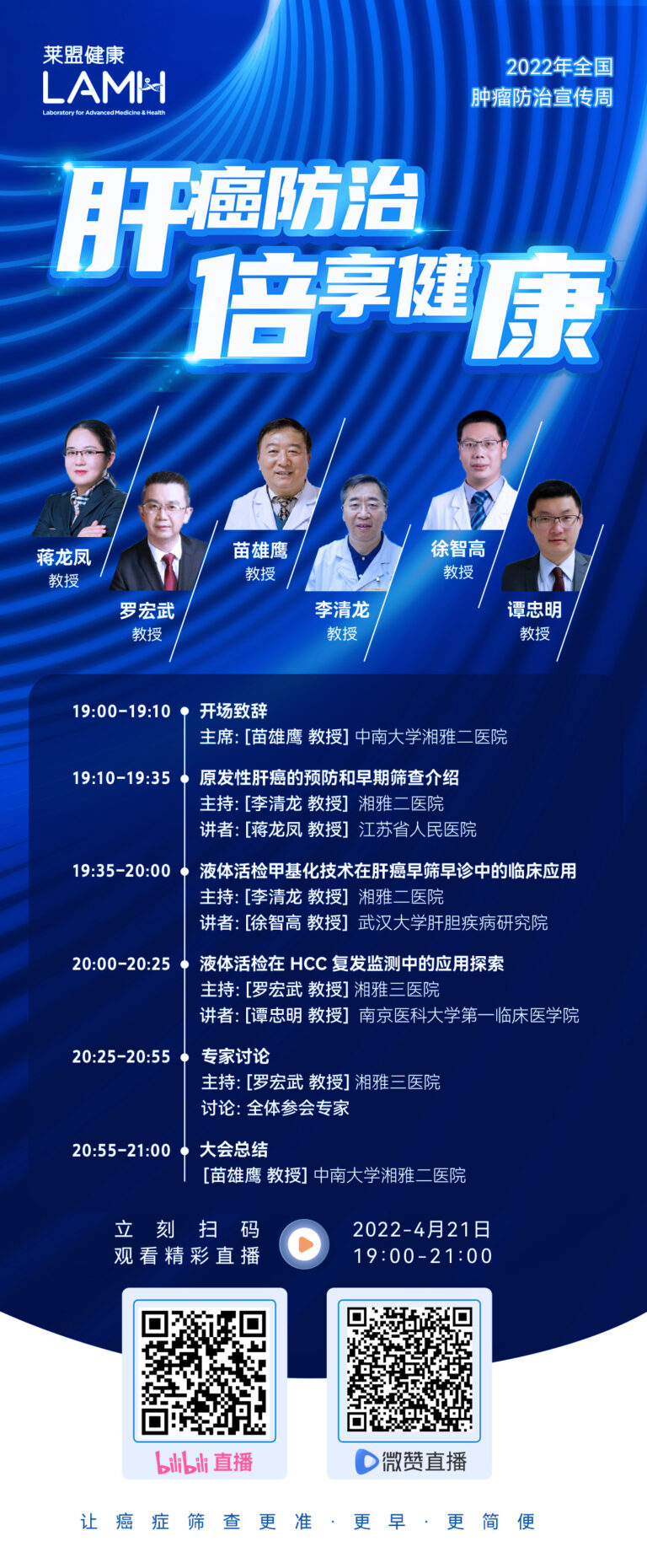 At that time, experts including Prof. Miao Xiongying and Prof. Li Qinglong from Xiangya Second Hospital of Central South University, Prof. Jiang Longfeng from Jiangsu Provincial People's Hospital, Prof. Xu Zhigao from Wuhan University Institute of Hepatobiliary Diseases, Prof. Luo Hongwu from Xiangya Third Hospital and Prof. Tan Zhongming from Jiangsu Provincial People's Hospital Hepatobiliary Surgery will meet in the cloud to help promote the benefits of clinical patients with high risk of liver cancer and build a healthy China together.
On April 21, 19:00-21:00, scan the QR code in the poster above to make an appointment to watch.
Topic of this live broadcast: Liver Cancer Prevention and Treatment, Enjoy Health
Key contents of this live broadcast.
☑ Prevention and early screening of primary liver cancer
☑ Clinical application of liquid biopsy methylation technique in early screening and diagnosis of liver cancer
☑ Exploration of liquid biopsy in HCC recurrence monitoring